Starters & alternators technical bulletins – Various models

1. JAGUAR ALTERNATOR CHARGING PROBLEMS
On Jaguar XJ and XK models (1996-2003) when an alternator problem is diagnosed, some customers have experienced charging problems – even after the fitment of a replacement unit. This is due to the battery being fitted in the boot of the vehicle. Consequently the wiring connections in the boot, passenger foot-well or false bulkhead under the bonnet may have high resistance. These should be checked and cleaned thoroughly. The part number primarily affected is AEK2286.
2. FURTHER WIRING PLUG JAGUAR NOTES
If the replacement alternator is overcharging after fitment, the cause may be due to no signal to the 'C' terminal of the connector plug from the ECU.
If there is no signal to the 'C' terminal on the alternator from the ECU, the alternator will show an overcharge of approximately 15.7 Volts. Possible causes of this are a broken wire in the loom, connector pins in the plug being damaged or open too far to make a good connection, or there may be an ECU fault. Part numbers affected are: AEK3195, AEK3196 and AEG1066.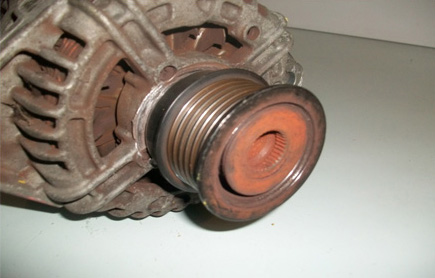 3. VAUXHALL VECTRA 2007 ON 1.9 CDTI DIESEL BOSCH ALTERNATOR PULLEY FAILURE (see example images above and below)
Check the clutch pulley on the alternator that has been removed from the vehicle. If the pulley is seized, spinning freely in both directions without the alternator turning, collapsed or is missing, this will indicate a vehicle fault which has caused failure of the alternator. Fitting the new alternator without rectifying the vehicle fault will result in premature failure of the replacement alternator. Check the belt tensioner for correct operation and ensure that the belt has been correctly routed. The part number affected by this very common issue is AEK3125.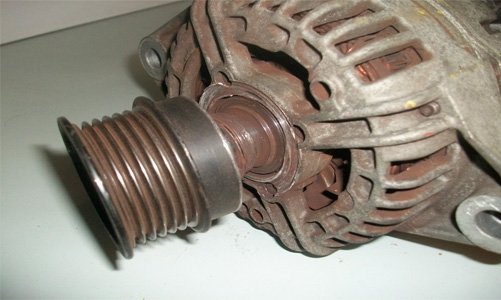 4. MERCEDES ALTERNATOR CHARGING FAULT
Check for faulty seat modules on Mercedes applications from 2000 onwards. A flat battery can lead to an incorrect diagnosis and subsequent replacement alternators can be fitted with the flat battery problem persisting. Often the problem is later found to be an electrical drain caused by a faulty seat module. Part numbers affected are: AEC1752 and AEG1142.
Technical help from Autoelectro
Autoelectro's website 'catalogue' section lists specific technical information for many applications. All you have to do is click on the red 'i' that accompanies the product specifications.