Lower Viscosity – COMMA Tech Talk

Fuel Economy
Vehicle technology has changed dramatically in recent years driven by the introduction of increasingly demanding environmental legislation. Tougher regulations are forcing manufacturers to continually improve fuel economy, reduce harmful exhaust emissions and reduce oil waste across their vehicle range.
Choosing the right type of engine oil is one way to make an engine more fuel efficient. Lower viscosity oils combined with high performance additives significantly reduce the friction between engine components making them the best choice for fuel economy.

Lower Viscosity
Fig 1 – The move towards lower viscosity engine oils
This is one reason why many manufacturers are recommending fully synthetic 5W30s, 5W20s, 0W30s and even 0W20s for their newer vehicles and is also an example of how the different demands of the manufacturer has led to multiple products of the same viscosity and whilst we do our best to try and combine these specifications its virtually impossible to combine the requirements of every manufacturer into a single, cost effective product.

Latest Additions
Although 5W30 is still the most common fuel economy engine oil grade, vehicle manufacturers are now looking to take fuel economy a step further by developing even thinner oils grades, with 0W30, 5W20 and 0W20 viscosities becoming the preference for the most recent formulation developments.
Following its strategy to maximise the UK vehicle park coverage, Comma has recently introduced Eco-P 0W30 (for the latest PSA petrol and diesel engines), Eco-FE 0W30 (for new Ford TDCi DuraTorq engines (1.5, 1.6 & 2.0)) and Eco-V 0W20 (for the latest Volvo engines with VEA (Volvo Engine Architecture) Drive-E Powertrain), formulated to meet the very latest and highest vehicle manufacturer requirements. When added to the pre-existing Performance Motor Oil products, Comma can now o er up to to 99% UK vehicle parc coverage.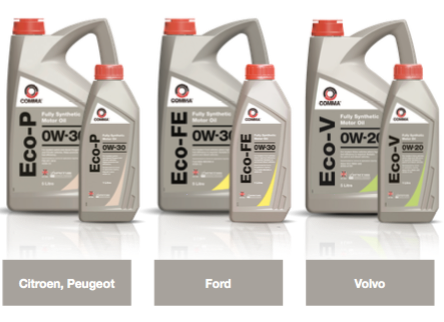 How do I know which product to use on which car?
The safest way to make product recommendations is to use one of Comma's application tools. At www.CommaOil.com you will find product recommendations with 100% compatibility guarantee
for engine oil and antifreeze & coolant for virtually every European vehicle going back over 30yrs, including system capacities and recommended service intervals. It also covers brake fluid, gear oil and power steering fluid should you find you need some help with those as well.It also covers brake fluid, transmission and power steering fluid recommendations.