Installation Recommendations for Honda Timing Belt System – A Technical Tip from Gates

Below is the result from improper belt setup. Notice the damaged spring, this is the result of turning the crankshaft clockwise during initial setup, which is incorrect.
See installation instructions provided in this kit. Crankshaft must be rotated two turns COUNTERCLOCKWISE with locking pin in tensioner and attachment bolt loose.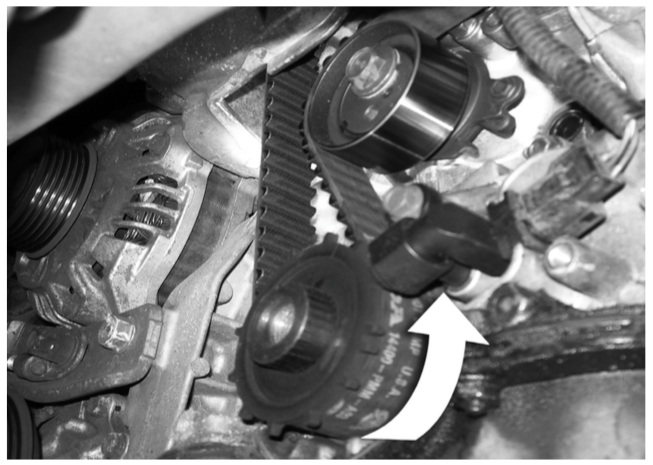 Not following proper installation procedures will cause:
Incorrect tensioner position
Improper belt tension
Resulting in:
A violent correction of the tensioner position
Damage to tensioner and/or spring and/or belt
Improper belt tracking causing interference with other components
Catastrophic engine damage due to timing belt and other component failure
During setup attention needs to be given to the relationship of tensioner spring. The spring must be in the "UP" position which is noted on the spring rubber dampener.
2001 – 2003 model years may require a longer fastening bolt!
Please be advised that early model year Civics may require an updated tensioner bolt. Honda upgraded the timing belt tensioner assembly in late 2002. Gates T43175 follows the design change. During this change the OE bolt length was also changed to allow for proper thread engagement. Gates supplies the updated bolt as part of TCK312 / TCKWP312 Kits.
Verify this issue with one of the following procedures, the updated OE tensioner and bolt has been provided in this kit.
With tensioner fastening bolt placed through tensioner assembly – Verify there is 15mm of thread engagement.
Measure Bolt: Bolt length for new tensioner design provided in this kit should be 54mm in length. (Incorrect Bolt Length Is 50.6mm)
Proper installation is critical. Improper installation will void warranty and will most likely result in major engine damage! 
Crankshafts on these engines rotate counterclockwise!