In the UK Schaeffler is renowned for its leading LuK clutch, INA tensioner and FAG wheel bearing brands, and the company always goes the extra mile to provide even better products for its customers. This was demonstrated by the efforts it made when building a new acoustic testing facility at its Technical Development Centre in Herzogenaurach, Germany.
A room within a room
A special feature of the facility is a 'room-in-room concept', where an entire room is spring-mounted inside a larger room so that it moves independently and can be completely isolated as it is decoupled from the oscillation of the rest of the building. Special bricks were imported from Sweden as the interior rooms had to be of particularly high density (at least 2,400 kg/m³). Unsurprisingly, it has been named 'the wobble room' by staff!
The company's engineers in the Competence Acoustics Centre (part of the Technical Development team) investigate the origins of irritating noise using the latest state-of-the-art analytical methods to discover how noise is generated and what can be done to eliminate it at the beginning of development. As such, typical tasks include investigations of airborne sound and vibration behaviour in the vehicle drive train, as well as in the chassis and its components, such as ball screw drives and roll stabilisers.
In addition, engineers also examine plain bearings and rolling bearings of all types and designs that are used in applications such as production machinery, wind turbines, hydroelectric power plants, railway, medical technology and household applications.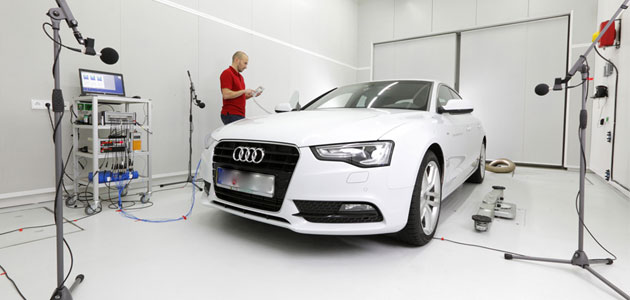 Vehicle test stand: here vehicles up to the size of a delivery van can be examined from a noise technical point of view.
Hi-tech equipment
Equipped with state-of-the-art measurement and computer technology, three test rooms and the so-called 'wobble room' have been installed in a 180 square metre area.
CTO Prof. Dr. Peter Gutzmer said: "This is an audible and tangible further extension of expertise at Schaeffler. With the new Herzogenaurach acoustic centre, we have created ideal conditions to further optimise the globally networked development activities at Schaeffler and adapt to customer needs even better than before."
Especially in the field of drive technology, customers are paying more and more attention to low friction coupled with the quiet operation of the individual system components, and this is also true for bearings in electric motors and devices for the home and office environments.
Acoustic issues from all areas of automotive and industrial engineering can also be addressed quickly and competently.
Dr. Arbogast Grunau, Senior Vice President Corporate R&D Competence and Service, said: "The expertise concentrated here is the result of long-standing experience in product and system development and it is continuously being developed further.
"We use our network of competence to spread our knowledge and experience throughout the world, with training and seminars being an important medium. In this way we make an important contribution to Schaeffler's global alignment, true to our motto 'Together we move the world' – here with a particular focus on noise optimisation."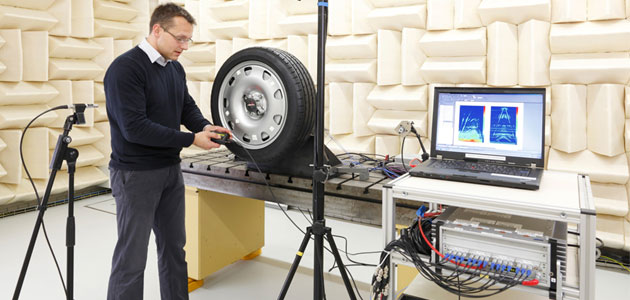 Examination of airborne sound and vibration behaviour of car wheel bearings in an anechoic room
Reducing outside noise
The test rooms include a large acoustic vehicle test bay, a room for fatigue tests and one with extensive adaptation options. The 'room-in-room concept' covers 30-50 square metres of floor space with the largest room weighing more than 130 tons.
The interior ceilings and walls of the test rooms are lined with up to 35cm thick acoustic broadband compact absorbers to meet the sensitive metrological requirements of the acoustic staff.
Dr. Alfred Pecher, Manager, Testing Competence Centre Acoustics, said: "This constructional measure means it has also been possible to reduce noise intruding into the test rooms from outside – such as the sounds of trucks passing by – to a minimum, and to obtain technically accurate measurements."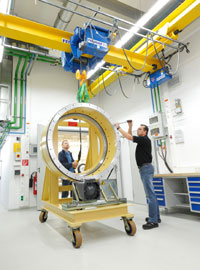 Even large-size bearings weighing several tons can get inside the acoustic centre by means of a crane system, designed specifically for this purpose. They can also be examined there.